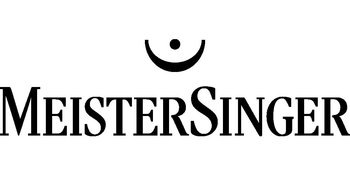 Meistersinger
Rituals of time
We have to run, jump, fly, dive, fall, get up and move on. But time knows no mercy. Reason enough for MeisterSinger to break with the hustle and bustle of the day. Based on the slogan 'Rituals of time', the brand believes in well thought-out, constructed products and a more relaxed experience of time.
Single-handed watch
From the very beginning, MeisterSinger has been using a tried and tested principle: that of the single hand. The dial of the Meistersinger watches reflects this philosophy perfectly; time passes in units of five minutes. In this way they look back to the tradition of time measurement in its most authentic form, identical to the sundial and the first mechanical pocket watches from the 17th century.
Fascinating models
In terms of technology and design, the models from the collections of the German company MeisterSinger meet the highest standards. The fascinating designs are based on high-quality craftsmanship and have been awarded with prestigious design awards over the years. Lines of the models No1, No2, No3, Pangeae, Salthora, Salthora Meta X, Perigraph, Neo, Singulator, Paleograph, Circularis, Adhaesio and Phanero are fixed in the collection, although the German brand also often surprises us with very limited editions.
The MeisterSinger watch of your dreams
As an official dealer we have the entire collection of mechanical watches of MeisterSinger in stock. Classic, modern or timeless. Hand rewinder, automatic or with power reserve - Brunott is the place to buy a MeisterSinger anyway.
How to read a Singlehand watch
The 12-hour dial is divided by 144 markers. Each marker represents 5 minutes.
The combination of the bold 15, 30 and 45-minute markers and the prominent needle pointer make it easy to read time.

<!— Ruben begin —> <!— Ruben end —> <!— GoSquard tracking begin —> <!— GoSquard tracking einde —>