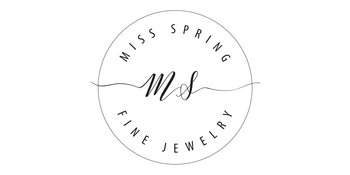 Miss Spring
By Peter Bruining
Miss Spring's extremely feminine jewellery comes from the family-owned company Peter Bruining. For more than seventy years they have been making fantastic jewellery using traditional methods. Two sisters from the family do with Miss Spring where they are the very best at: making jewellery from diamonds and gold.
Handmade little things of love
There's a little Miss in every woman, any age. With refined rings, necklaces, earrings, pendants and bracelets is Miss Spring a tribute to her. Pretty letters, meaningful signs; the whole collection is pure emotion.
Sophisticated, sustainable collections
The Miss Spring collections are characterized by refined charms, symbols and letters. Out of love for the planet, the Browning family has made it a priority to work responsibly with all the materials and processes used in the company. Miss Spring's jewelry is made from sustainably sourced gold and diamonds sourced from Kimberley Process certified vendors.
Feel like a Miss Spring
As an official dealer of this special brand you can visit Brunott for several collections of jewelry from Miss Spring. From bracelets with coloured gemstones from Ma Petite, to alliance rings from 'Allerliefste'. Discover the collections with us and feel like a Miss Spring!
<!— Ruben begin —> <!— Ruben end —> <!— GoSquard tracking begin —> <!— GoSquard tracking einde —>