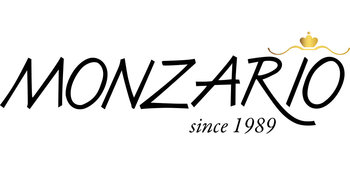 Monzario Oro
By Monzario
Authentic Italian class that you may consider as Dutch treasure. From 1989 Berno Boelers travelled through Italy to be inspired by his silver and gold jewellery.  The stylish bracelets, rings, necklaces and earrings are handmade in Italy and are part of a range that is constantly expanding.
Monzario Oro
The Monzario arsenal includes several collections, of which Monzario Oro is just one. In the Oro (the Italian word for 'gold') collection, the brand embraces this precious metal in all its shapes and forms. The beautiful designs from this collection are made with 14- or 18 carat yellow, white or rose gold. With diamonds or without.
Exceptional link chains and closures
Wonderful types of gold and special links make the jewels of Monzario Oro recognizable and distinctive. From twisted link chain in yellow gold to white gold rolo bracelet, some even more beautiful than others.
What is your Monzario Oro?
Whether subtle or eye-catching, the Monzario Argento collection offers both. As an authorized dealer of Monzario you can come to Brunott for a Monzario jewel that suits you!
<!— Ruben begin —> <!— Ruben end —> <!— GoSquard tracking begin —> <!— GoSquard tracking einde —>