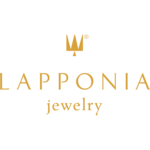 Lapponia Jewelry - The Art of Expression
Strong artistic vision and skillful Finnish craftsmanship are the fundamental elements of the quality of Lapponia jewelry, which has stood the test of time. All Lapponia jewelry is handmade in Helsinki.
The story of Lapponia Jewelry begins with two courageous men – entrepreneur and visionary Pekka Anttila and gifted designer and artist Björn Weckström. Together, in the 1960s, these men pushed the boundaries of jewelry design gaining global recognition with their sculptural design language.
Before reaching the wearer, each Lapponia piece of jewelry passes through the hands of some 16 skilled professionals at the Lapponia jewelry factory in Helsinki, Finland. Sustainability and respect for the environment is at the core of Lapponia Jewelry. Lapponia only uses recycled gold, and approximately 70% of the silver used in production is recycled. The remaining 30% originates from Nordic mines. This combination ensures that Lapponia's high quality standards are met. The waste water at the Lapponia factory is also collected and treated to minimize the impact on the environment.
<!— Ruben begin —> <!— Ruben end —> <!— GoSquard tracking begin —> <!— GoSquard tracking einde —>