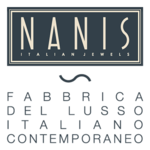 Nanis
The NANIS collections tell the story of innovative, contemporary reproductions of classic Italian jewellery. NANIS stands for femininity in all its facets;
Laura Bicego
Born into a family of renowned Italian goldsmiths, the love of jewellery is deeply rooted in Laura's soul. It was no surprise to anyone that the founder of NANIS would follow in the footsteps of her father. But the brand she launched in 1990 was certainly.
From woman to women
The NANIS collections tell the story of innovative, contemporary reproductions of classic Italian jewellery. NANIS stands for femininity in all its facets; Laura is a woman who designs for women. The light, practical and versatile jewelry captures the style and personality of the modern woman and is designed to give her a powerful, radiant and amazing feeling.
Love for gold
NANIS' handcrafted jewellery shows Laura's love for gold. Gold is what she needs to produce her beautifully designed jewellery. Her creations use this precious metal in combination with beautiful coloured gemstones. An impressive ensemble, due to the high quality and sublime finish of the jewelry.
Italian Jewels
The search for Italian jewellery with a refined, stylish touch ends at Brunott! As an authorized dealer of NANIS you will find a wide range of rings, bracelets, necklaces and earrings from the beautiful NANIS brand.
<!— Ruben begin —> <!— Ruben end —> <!— GoSquard tracking begin —> <!— GoSquard tracking einde —>