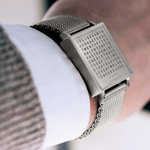 WATCH - A PLEASANT COMPANION
QLOCKTWO W takes the calming principle of displaying time in words and applies it to your wrist at the touch of a button. It is available in two different sizes - 35 x 35 mm and 39 x 39 mm.
QLOCKTWO celebrates time in a very special way. A matrix of 110, seemingly randomly placed characters, form the basis of every QLOCKTWO. Individual letters are highlighted to form words. These words together "describe" the time of day with an interval of 5 minutes.
The QLOCKTWO collection consists of different models, each available in different colours, materials and different languages. Since its creation in 2009, each QLOCKTWO product has been individually handmade per order in the workshop in Germany. As a result of its innovative craftsmanship, the brand has since been awarded many design awards all over the world.
<!— Ruben begin —> <!— Ruben end —> <!— GoSquard tracking begin —> <!— GoSquard tracking einde —>