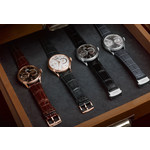 Watches
Watches
Brunott exists for more than 100 years and is the oldest jeweler in Rotterdam. In the oldest shopping street our first shop is opened. Familiar in the most beautiful city there is, it is also possible to buy a watch online.
Are you looking online for a watch with a Rotterdam streetscape? A buttercake of high quality? Take a look at our extensive assortment below. The assortment consists of women's watches, men's watches and unisex watches.
Besides being a reliable jeweler, the quality of a watch is also important. After all, a good watch is an investment. The assortment therefore consists of different types of watches, made with the best materials. There are different timepieces, materials and colors. Per price range you can search in the online menu for the right watch. In this way you can choose a classic, elegant and affordable watch for your philosophy. 
Online you can compare different watches with each other and quickly come to a choice. Do you order before 15:00? Then you will receive the watch the next day at home. The order will be shipped for free with a minimum amount of € 100,-. Have you fitted the watch and would you like to go for a different model? You can exchange the watch free of charge within thirty days. If you are not sure yet, you can also add the watches to your wish list and review them later.
Of course you can also visit our shop on the Oude Binnenweg in beautiful Rotterdam or on the Koperwiek in Capelle aan den IJssel.
<!— Ruben begin —> <!— Ruben end —> <!— GoSquard tracking begin —> <!— GoSquard tracking einde —>