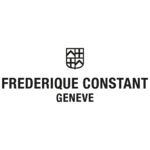 Frederique Constant | Accessible luxury
Frederique Constant watches are not limited to the elitist circle of connoisseurs but rather to a broader selection of appreciative enthusiasts who want to enjoy high quality classical watches at sensible prices.
Since the 18th century, Geneva has been an important center for the development and production of high-quality mechanical timepieces. The watchmakers from Geneva have acquired a unique position as masters in this specific craft. The studios and offices of Frédérique Constant are also located near Geneva.
The company Frédérique Constant originated from a passion for mechanical watches. The Dutch founder Peter C. Stas (Gouda, 1963) and his wife Aletta Bax started this successful adventure in 1988. The name of the company is a combination of the names of the great-grandparents of Peter Stas; Frédérique Schreiner (1881-1969) and Constant Stas (1880-1967).
At the beginning of 1900 Constant Stas was active as a manufacturer of clock dials. Only a few watchmakers, even in Switzerland, are today capable of producing complicated, high-quality mechanical timepieces. Frédérique Constant is one of them and manufactures timepieces with fully dust and watertight watch cases, to protect the fine mechanics. This can only be achieved through great dedication and involvement throughout the entire process, from design to final assembly. The Heart Beat Manufacture by Frédérique Constant is perhaps the best example of this.
As an independent manufacturer and thanks to the good cooperation with suppliers, Frédérique Constant has an important position within the precision watchmaking industry. The watchmakers employed by Frédérique Constant also make the difference. Most are trained at the specialized vocational schools of Geneva and La Chaux-de-Fonds, in the Swiss Jura and have first gained experience with other renowned brands.
In addition to the technical qualities of the watches, Frédérique Constant attaches great importance to the quality of the design. Trends and customer preferences play a role in this, as well as autonomous classical beauty.
Even though it is a brand with a short but fascinating history and with traditional qualities, at Frédérique Constant the attention is mainly focused on the future. And thanks to the excellent price / quality ratio, the watches are accessible to a relatively large audience. Only a few Swiss brands are able to offer high quality at the relatively low consumer price that is characteristic of Frédérique Constant.
<!— Ruben begin —> <!— Ruben end —> <!— GoSquard tracking begin —> <!— GoSquard tracking einde —>