Lapponia - Finse Perfectie
21 Apr 2015

Pekka Antilla heeft Björn Weckström gevolgd sinds de Finse Goudsmit school, en was erg onder de  indruk van zijn werk, ze gingen samenwerken sinds 1963. In 1965 nam Lapponia jewellry deel aan een internationalen beurs in Rio de Janeiro, Björn Weckström  gouden collier "Flowering Wall" won de Grand Prix, met deze onderscheiding heeft het bedrijf internationale erkenning gekregen, die in 1966 begon.
Geleidelijk werd de markt opengesteld voor gedurfde en unieke ontwerpen. Lapponia groeide en in 1971 trad Poul Havgaard toe tot het bedrijf, in 1972 maakten schilder Juhani Linnovaara zijn eerst wit gouden collectie voor Lapponia en 3 jaar later ontwierp kunstenaar Zoltan Popovits zijn eerste stukken voor Lapponia jewellry: een zilveren schaakspel. 
Björn Weckstrom was de eerste die zilver en acryl in juwelen ontwerpen durfden te combineren. Het werd beschouwd als vreemd, maar dat veranderden toen John Lenon en Yoko Ono in de Dick Cavett show met de "Petrified lake acrylic" ring om. In 1977 werd er een Lapponia zilver collier gedragen door "Princes Leia" in de Star Wars film." Planetoid  Valeys" werd daardoor snel een wel bekend stuk van Lapponia jewellry.
In 1989 trad Franse kunstenaar Christophe Burger  toe tot Lapponia jewellry, zijn eerste collectie bestond uit gepatineerd witgoud. Ontwerper Pekka Hirvonen begon zijn werk in 2002 met geel gouden sieraden. Meester goudsmid Chao-Hsien Kuo Begon haar werk in 2006 met het combineren van vrouwlijke elementen met het herkenbare Lapponia ontwerpen.
Mari Isopahkala begon in 2013 bij Lapponia na het winnen van de wedstrijd  "the Next Episode jewelry design contest". 
Lapponia jewellry werd in 2005 overgenomen van de familie Antilla, in april 2013 werd he bedrijf samengevoegd met Kavala jewellry waar het zijn eigen merk blijft Geïnspireerd door de noordelijke aard. Lapponia jewellry  brengt al meer dan 50 jaar vreugde aan de wereld.​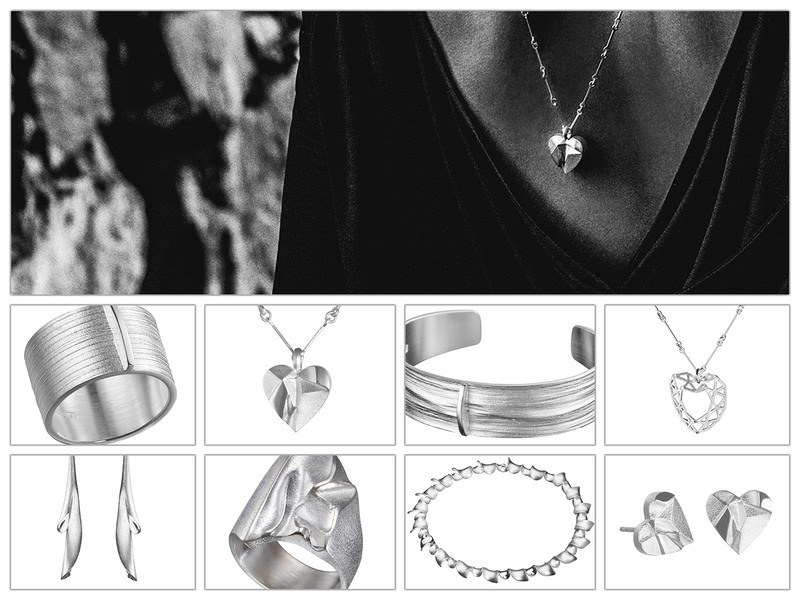 De verschillende Ontwerpers van Lapponia:
Björn Weckström 
Björn Weckström (b. 1935) is a recognized jewelry artist and sculptor. He was the forerunner in designing sculpture-like jewelry for Lapponia Jewelry, drawing his inspiration from the shape and matte surface of gold nuggets from Finnish Lapland. Designing silver pieces, his aim was to use silver to portray the snowy, Finnish winter landscape with its frozen lake surfaces. This how the unique surfaces of Lapponia pieces and the creation of distinctive Lapponia design language were born. 
Weckström ́s main mission has always been in turning jewelry design into small-scale form of art and raise its profile on a par with that of modern sculpting. 
Fascinating Space Silver 
The first series of Space Silver was designed in the end of 1960 ́s by Björn Weckstöm. The space with its unknown began to interest Weckström. His first Space silver item was a ring called "Ikaros", and by the time Weckström had finished, he had 50 different designs. He had designed unknown surfaces from distant thoughts in people's minds. The designs included human figures, but with a touch of the unknown. 
Many of the Space Silver pieces are designed with small human figures – the intention of these figures is to break the dimensions of the piece. According to the artist himself, the size of the piece becomes
limitless as we imagine ourselves to be the miniature figure depicted in it. Part of the Space Silver collection is Weckström ́s probably the best known piece of jewelry "Planetoid Vallies", which was worn by Princess Leia in Star Wars movie. 
Talented and versatile artist 
In addition to jewelry design, Weckström is a recognized sculptor, glass designer and painter. His sculpting work is expressed from abstract form to an individualistic interpretation of realism. 
Part of the year he lives in Italy, working in his atelier in Pietrasanta where he desings most of his pieces. In addition to design work, another his passion is sailing - water is a true source of inspiration with its reflections and unpredictable elements. 
Another part of the year he spends in Finland, enjoying his home with surrounding water and nature. Finland ́s calmness and unrushed life is a controversy to Italy with it ́s fast life and Southern European culture. 
Christophe Burger 
French jewelry artist and designer Christophe Burger has designed jewelry for Lapponia since 1989. He took a degree in English language and literature, but had already an urge for a creative work. He went on to study jewelry design and goldsmithery at the Strasbourg School of Applied Arts. 
In addition to Lapponia, he has been making unique pieces of jewelry at his own workshop, in Colmar, France since 1977 and showing his work in many galleries and museums worldwide. He is the vice Chairman of Corpus, a group of French jewelry designers and a founder member of Ars Ornata Europeanea, an international network of contemporary jewelry art. Following his taste for education, he likes to meet jewelry students in workshops and seminars he regularly holds, as well as a broader audiences curious about the specificity of contemporary jewelry art. 
Christophe Burger is a highly esteemed French designer of artistic jewelry who combines his own personal style and researches with traditional Finnish craftsmanship. His form language is essential, geometric and includes powerful structures and surfaces, both charasteristic of Burger ́s designs. These designs often bring together different patterns that meet on the surface of the jewelry. Polished graphic accents are often present to bring rhythm and energy to the pieces. 
A master of wordplay, Burger always names his pieces with intriguing and thoughful names that are an inspiration to the designer as well as the wearer. Additionally he provides the observer with very direct messages. A piece of jewelry should be readable - containing a message from the designer to the wearer and to the observer. "Jewelry is never an end in itself but a means whose poetic and culture-laden message always calls for communication." 
Pekka Hirvonen 
Designer Pekka Hirvonen has been designing jewelry for Lapponia since 2002. "Even as a young man, I had the desire to create something with my own hands. My first job was at the age of 15 working for a jewelry company first as a messanger and later as a smith. At the age of 23 I began my journey with Lapponia – first as a prototype smith working on other designers ́ pieces, later in 2002 as a designer", says Pekka Hirvonen. 
His design language strives for simplicity. Curves and lines create a harmonious entity, but maintaining its sensitivity is very challenging for the production. The forms can be described as graceful and aerodynamic. The same kind of forms can be found in nature and therefore they appeal to the human eye. In addition to aesthetics and excellent goldsmith skills, Hirvonen also emphasises the practicality of jewellery. Pekka Hirvo- nen designs beautiful everyday jewellery with elegance and timelessness and his work can be characterized by its wearability. 
His method of working is not to draw sketches, rather he likes to work the design plan in his head beforehand. After the plan is ready, he creates an actual model piece of his own. 
"My aim as a designer is to create beautiful things that express the personality of the wearer with the jewelry that he or she is wearing." It is very important for Hirvonen that jewelry will have a story, a future history of its own. The pieces exist for a very long time and can be worn by many generations. 
Chao-Hsien Kuo 
Designer Chao-Hsien Kuo, a native Taiwanese born in 1973, has been working for Lapponia since 2006. She is a Bachelor of Science with High Honors in Fine Arts- jewelry/metal graduating from Hofstra University, Hempstead, New York, USA. In Finland she has studied goldsmithing and Jewelry Design in School of Goldsmithing in the Lahti Institute of Design. After finishing her studies from Lahti in 1999, the same year she also gained her Master Goldsmith certificate in Finland. In 2006 she has received her Master of Arts Degree in Industrial Design at the University of Art and Design Helsinki, UIAH Finland. 
Before joining Lapponia, Kuo had already participated in important international jewelry design exhibitions in Finland, Spain, The Netherlands, Sweden, Belgium, Korea and Taiwan. 
Design with feminine touch 
Chao-Hsien Kuo is the first female Lapponia designer. She has achieved her fresh style among the prominent names in Finnish design. With Kuo, Lapponia has given its well-known bold image a new, delicate and feminine look. She combines fine lines with distinctive Lapponia style. Her favourite material is silver, since among its other qualities, silver also gives the possibility to create nearly white snowy colour to the surface of the jewelry. "I do love Finnish winter nature with its glimmering sun and snow under my shoes", says Kuo. Kuo ́s pieces often reflect the Finnish lifestyle, especially the relationship between human and nature. 
Living in Finland has a profound influence on Kuo ́s works. She enjoys the natural surroundings and likes to observe the plants and flowers. She feels that each of them can be a source of inspiration for creating. In her opinion there are so many beautiful things around us, and it all depends if you will stop a little while and take a moment to see. 
Currently Chao is living in Lahti, Finland and works in her studio together with her spouse. 
One of her most popular collections for Lapponia is Summer Romance. The inspiration for Summer Romance is the gold fields of dandelion flowers, which reflects the sunny mood in the summertime. There are flowers blooming everywhere, and even people blossom with smiles on their faces. The collection tells about the cheerful and romantic summer in Nordic countries. "I hope Summer Romance resembles all the happiness". 
Poul Havgaard 
Poul Havgaard's talent for creating modern jewelry was noticed in 1971, when he joined Lapponia Jewelry. Before his career as a jewelry designer he had worked as a blacksmith and a painter, restoring old churches. Since 1960, Havgaard has had a workshop of his own in his hometown of Faaborg. 
Silver is Havgaard's favorite material, even though he has designed some golden jewelry, too.
Amber combined with silver characterizes some of Havgaard's designs. This combination is unique in jewelry design. 
Forms that communicate with each other are the basis of Havgaard's designs. An essential principle of his design is to create tension by letting two interesting forms collide. The form language is shared with other people by wearing the pieces of jewelry. A piece of jewelry is a part of an individual's personality. It can also be a part of the sign language of eroticism and thus a central tool in influencing the opposite sex. According to Havgaard, adorning oneself for another person's sake is one of the central factors that has influenced culture during the course of history. 
In addition to jewelry, Havgaard also creates sculptures. His work has been displayed at exhibitions in museums and galleries, not only in Scandinavia but all over the world, including Berlin, London, Paris, Sydney and Tokyo. 
Zoltan Popovits 
Sculptor and ceramist Zoltan Popovits started his co-operation with Lapponia Jewelry Oy over 30 years ago by designing a chess set in sterling silver, each piece being an individual entity of its own, a miniature sculpture within the whole of a larger work. The chess set was well received and he was asked to continue his design work at the company. A silver collection and later a gold collection followed. 

Zoltan Popovits has been an admirer of japaneses esthetics since he was first exposed to it as a young architecture student. Japaneses concepts have influenced both his works as a sculptor and as a jewelry designer. The most obvious example of this is the Origami jewelry series. Origami is a Japanese concept for the honouring of ordinary paper. 

The roots of Zoltan Popovits ́ jewelry design reach back to the jewelry customs of primitive peoples in which an extremely close bond exists between the jewelry and its wearer. "We use our personal objects to bind ourselves to the outside world. Jewelry connects its wearer to a specifice time, place and person. It is an intimate object that evokes memories and emotions. Design and form in jewelry offers the wearer the possibility of discovering echoes of his or her own thoughts and experiences." 

<!— Ruben begin —> <!— Ruben end —> <!— GoSquard tracking begin —> <!— GoSquard tracking einde —>